Graduation Gift Guide
Graduation is such a time of celebration! Celebrating an incredible accomplishment, the end of a season, and the launching into a new adventure. I desire S+F to help you love on others well through intentional and meaningful gifts. Here are a few ideas for the grads in your life!
Most of these ideas are catered to Athens, GA and the University of Georgia, because that's home for me- but every piece is hand stamped character by character and can be customized to fit any college or grad. A few customization ideas that I think would be perfect for any grad are: "fear is a liar", "go after courage", "courage, dear heart", "get your hopes up", "you are enough".
City Coordinate Necklace
Keeping all of the memories of this special city close to your heart. This necklace is a chance for a grad to often think of the Classic City and to tell others of their lovely experience here!
ATH Necklace
Whether its ATH for Athens, AU, AL for Auburn, their initials, coordinates, or even a short encouraging word, this tiny circle necklace is a dainty, everyday piece. A couple words to help you start brainstorming something that would really speak to your grad: hope, trust, dream, be still, be, peace, brace, dwell. But as always- you can customize it to your hearts desire!
Home Sweet Athens
This little phrase is a sweet one to remember the years they spent in Athens. With a city as special as this one, it will always be a place they can call home.
Coordinate Circle Necklace
These coordinates are specifically of the UGA Arch, a spot so iconic in this sweet town especially for grads. You can customize this necklace with coordinates or even an encouraging word or phrase for their next season.
Custom Coordinate Bar Necklace
Whether it's the stadium where they cheered on their team, and iconic location such as The Arch, their favorite coffee shop, or a specific location where they realized their dream, coordinates are a great way to keep that spot close to your heart forever.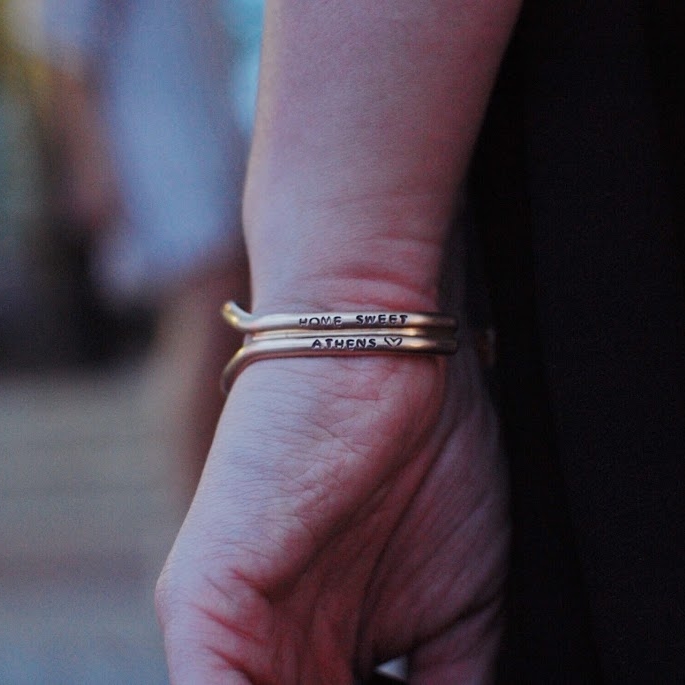 Home Sweet Athens Split Cuff
These split cuffs are one of the newest S+F pieces and so far, everyone that has seen it just adores it! Myself included. They're minimal on the top and can include a little message on the side: home sweet athens, coordinates, or an encouraging phrase.
Georgia Necklace
For the gal who is a Georgia Peach forever. This state is pretty incredible and this necklace is perfect for a grad who is moving on to a new adventure outside of Georgia.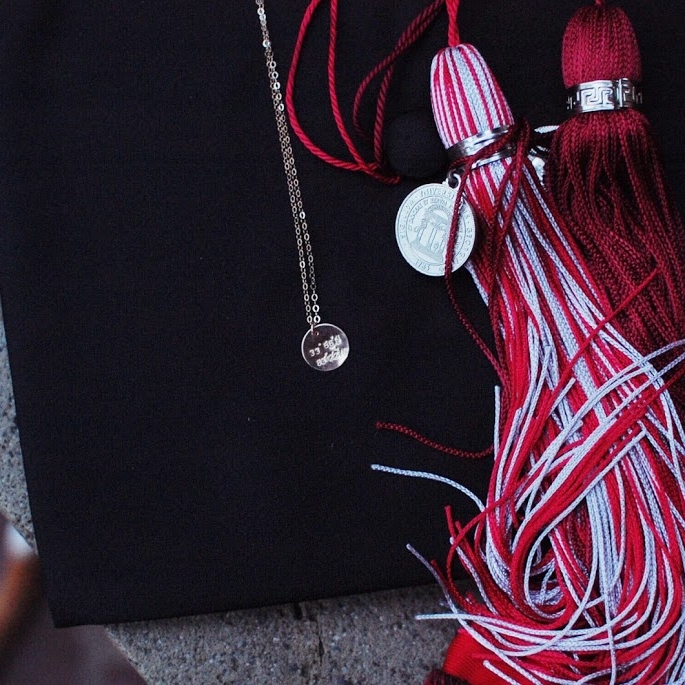 Coordinate Circle Neckace
For something a little daintier than a bar, teeny coordinates are precious. Customize the location to create forever memories of a special spot.
Georgia Key Chain
Whether this is tied to the top of a gift, around a bouquet of flowers, around a bottle of champagne, or just in a sweet box- these are great for both guys and gals!
Tie Bar and Money Clip
A custom tie bar to wear on graduation day adds a little class to the lovely cap and gown outfit. And, every man needs a money clip! Add some coordinates to the back to make it a little more personalized!
Custom Stacking Rings
For a more minimal girl, these rings are the perfect gift! You can customize them with a simple initial, a short word, or even leave them blank. Th would be the perfect spot to put "ATH", "ATH, GA", or a simple word such as "be" or "trust" to set them in the right direction on their new adventures!
Custom Thick Cuff
One of my favorite pieces from the Spring Line. This cuff is perfect for coordinates or an encouraging phrase for the new post grad adventures. Fear is a liar, go after courage, to the moon and back- anything your heart desires that will celebrate your grad!